International Stress Awareness Week – Minding Our Mental and Physical Health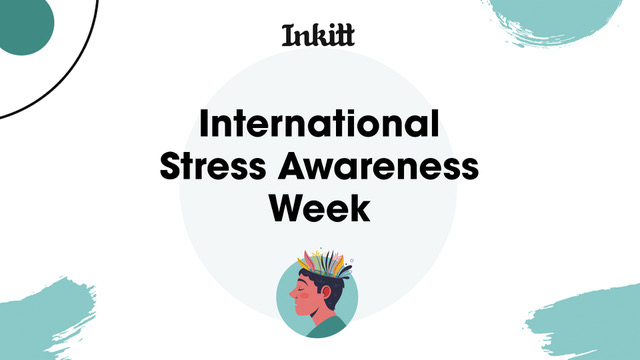 Here at Inkitt, we always aim to hire the best of the best! We aim to attract people who are independent-minded and highly driven. Whether they're part of our content team, in the marketing department, writing code or building a financial model, not only are Inkitt employees excited about our mission, but they are highly enthusiastic about playing their part in contributing to the company's success and achieving our big ambitions. As is often the case in companies with such highly dedicated and high performing teams, stress can take its toll, which is why on this stress awareness week, we wanted to take a second to talk a bit about the various ways we cope with stress here at Inkitt.
Please read below what our team members Jaime, Gabriel, Anna and Rita have to say about coping with stress.
"I've never had trouble shutting down when the day was over before, but when I first joined Inkitt, I found myself thinking about it after hours, and I wanted to continue working all the time. The product was just so cool. For the first month or two, I really enjoyed the mindset of not shutting down," says Jaime Franco, Product Manager. In an age when many of us work remotely, and the internet keeps us connected day and night, it's easy to forget that we need real downtime. 
Rita Halle, Product Marketing Manager, echoes this sentiment. "I'd get up early to start work, catch myself not taking a lunch break, and then thinking about work well into the evening. At first it felt like a super-power, because I was so excited about what I was doing. I'm still excited about it." But, she and Jaime agree, one must learn how to unplug and recharge if one is to sustainably keep a certain pace.
Rita says that now she not only ensures to take her lunch, but she also will make time to go  for a walk in the fresh air. Jaime mutes his notifications in the morning and after 7 pm at night.
Gabriel Escolana Lobo, Senior Product Manager, has worked for ten years in start-ups, so he's used to the speed, pace, excitement, and stress that comes with this kind of job. "I'm known to be a bit of a workaholic." 
When Gabriel became a dad a year-and-a-half ago, it was a catalyst for adapting his behavior. "I'm prioritizing my family time now. A small child requires your full attention. When I am with my family, I put my phone away and I'm fully present. I've also become more efficient with my time. It's a learning curve and I haven't mastered it yet," he jokes.
Anna Vasileva, Translations Team Lead, also disconnects from her technology to get a break. "I have a rule that when I take my dog for a walk I put my phone on airplane mode, just walk around and don't react to any notifications or anything. Even if everything is super intense around me, I always know that I have that time to recharge, and I will not be disturbed by anything else."
In addition to establishing boundaries and taking time away from work, physical activity, hobbies, and relaxation exercises all help reduce stress and promote the overall mental and physical health of Inkitt employees. Yoga, meditation, running, dancing, music, and socializing are on Jaime, Rita, and Gabriel's short list of favorite activities. Anna spends time outside of work volunteering at animal shelters.
Inkitt, as a company, takes the well-being of its employees seriously. Creating a collaborative environment that rewards innovation and hard work goes a long way to establishing a healthy work culture. "Competitive salaries are a concrete way the company shows its employees that their work is valued," Jaime says.
Gabriel identifies the flexible work time, and the ability to work remotely, on site, or some combination of both as a real plus. "I have the autonomy to work when I'm most productive rather than at some prescribed time. It's about achieving my goals. Inkitt trusts us to work in the way that's most effective."
Inkitt goes beyond simply encouraging a supportive, flexible work environment to promote employee wellbeing. We offer real perks like gym memberships, and a mental health initiative that includes access to counselors as well as a weekly, company-wide workshop with a wellness coach. "It's really helped me manage my stress. It was the counselor who strongly encouraged me to take a lunch break every day," Rita says. She's also realized the stress she puts on herself isn't necessarily real. "I'm learning what's internal and what's external stress."
"It's very easy to say work is stress, or some other external thing causes stress, but really it's inside us, and we choose how to respond to it," Jaime adds. 
As we learn to navigate work in the modern age, especially in the post-COVID environment, it's important to mind our mental and physical health. Even when we love what we do, we can still find ourselves stressed out. Focusing on our own well-being might require a mindset shift and a few changed habits, but in the end, we'll be healthier and more productive for it! 
At Inkitt, we believe that every author in the world should have an equal chance to succeed. That's why our mission is to discover hidden talents and turn them into globally successful authors. Join us on our mission and start the next chapter of your career with us!