"I quit freelancing to build the Disney of the 21st Century"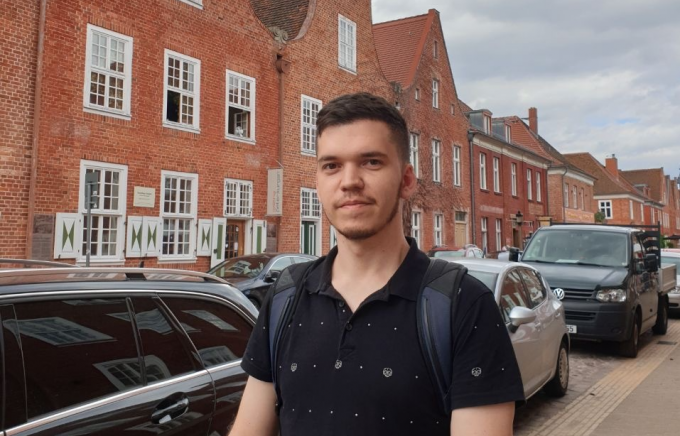 Today, we meet Igor, Mobile Developer at Inkitt.
"I quit freelancing to build the Disney of the 21st century"
I remember the first time I got in touch with Inkitt very well. After I finished my master's degree in a small town in Russia in June 2018, I worked as a freelancer on various projects until the beginning of 2019. I could do all the projects from Russia, but the idea of moving to Western Europe had been fascinating for me already for a while.
Most of the projects were on a long-term basis, so it was quite comfortable, especially as my wife and I welcomed our precious little daughter two years before.
At the beginning of 2019, when we had adapted to the new lifestyle as a family, my personal ambition began to grow, and I felt ready for a new challenge. I decided to work with some friends on a bigger project for a new company to expand our skillset and eventually sign a contract with an outsourcing company that would help us go to Western Europe.
Like so often in life, events unfolded differently than I expected. Looking back, the project was a fail. It has been an important experience and the fact that I learned to take over a lot of responsibility helps me in my job today, but at that time everything just felt overwhelming. The outcome of the work was far from a success, and, after I finished my contribution to it, I left exhausted, with less money though considerably richer inexperience.
Inkitt wants to find hidden talents and turn them into globally successful authors
In Spring 2019, I wasn't sure if I was ready for a new challenge when Laura, the Venture Developer (and Finance Lead and interim HR Manager and all the other roles she mastered at that time) reached out to me, saying they were looking for a Mobile Developer to join their team in Berlin.
She described the concept of Inkitt: a platform where anyone in the world can upload their story. Based on reader behavior, a machine learning algorithm would detect the best stories, promote, and publish them on a different platform, which is called Galatea, and has millions of users reading the stories every day. That caught my attention. Was it like a publisher? I wanted to know more. The CEO and founder, Ali, told me Inkitt was different because it gives everyone an equal chance to succeed. Authors who upload their stories on Inkitt are not being promoted because of their connections or previously published work. They are promoted and become successful authors because they are talented, and their readers fall in love with their stories. At Inkitt, we find these hidden talents objectively, based only on data.
I'd never heard of anything like it. After diving more into the vision and possibility of having a central role in building Inkitt's second product, Galatea, I knew I wanted to be part of Inkitt's vision.
Galatea is our immersive reading app. It has all the best-performing stories from Inkitt with the highest potential of becoming successful. Before the stories are published on Galatea, our in-house team of scriptwriters adapts the story and iterates it. Our sound designer team adds the perfect sound for each chapter to create the best immersive experience for the readers.
Moving my family to Germany
I passed all rounds of interviews and couldn't be more convinced today that joining Inkitt was the right decision for me and my family.
They supported me with the move, with finding a flat and German bureaucracy. Having Denis as my manager, who himself moved from Moscow to Berlin 5 years ago, made everything easier. It is soothing to know that the company has your back in this situation.
I can work from home when needed, bring in my own ideas and work on eye-level with my colleagues and manager. I felt everyone I spoke to that has been working at Inkitt for a longer period of time, appreciated the flexibility and their individual opportunities to grow.
Being an Engineer at Inkitt
My team, which includes three other developers, is working on Galatea (the platform where users can read the adapted stories from Inkitt with sound and visual effects. We're constantly improving the app and adding new features, which help users to enjoy reading even more. We never consider a feature to be finished. There's always a way to improve the user experience. Everyone at Inkitt contributes to the development of the products. We live the idea of having a user mindset and encouraging everyone to share their feedback and ideas.
In my everyday life, I work with different departments like the product team and the data team and requirements to find the fastest and best ways to deliver the most important tasks. Sneak peek for a future feature possible here?
I can't believe I've been already working at Inkitt for a year. We've achieved a lot. My team and I developed, debugged, and successfully launched A/B tests that helped us measure what our users like to read. We refactored the whole process of reading and made the life of our customers much smoother. We improved our infrastructure to implement changes faster in the future. We launched offline reading. We have so many ideas, but what drives us, in the end, is always our users' happiness.
Tech stack
Our current stack of technologies is pretty wide in the company. Which tool we use depends on the goal. For mobile development, we use React, React Native, TypeScript, MobX, and Redux on some projects as data storage. We also use Firebase because a lot of tools from this service are really helpful in our everyday life. Our backend is based on Firebase functions and Nest.js.
The team
What I really like about being a part of the Inkitt team is having an impact on different fields of the company. Our departments are strongly connected, even though parts of the team are currently working all over the world.
Starting from ideas that can be implemented in the app, bug fixes, and improvements of existing functionalities to process improvement, your position doesn't matter. All that matters is your idea and its impact on getting one step closer to achieve our vision for Inkitt: Building the Disney of the 21st century. Systematically. Today we predict bestsellers, in the future, we will do the same for audio content and movies.
I really enjoy the entrepreneurial mindset, which made it so easy to switch from Freelancing to having a permanent position.
One thing I'm really excited about is working with real users, and I mean there are a lot of them. Just opening analytics and taking a look at the millions of users around the world that are reading our app gives me a flush of excitement! Oh, and I can't forget the legendary office parties(we can hopefully return to after this pandemic has calmed down). I always enjoy hanging out with my colleagues after work. They are the most fantastic people.
Thank you, for being part of our journey, Igor. You make Inkitt better every day!
At Inkitt, we believe that every author in the world should have an equal chance to succeed. That's why our mission is to discover hidden talents and turn them into globally successful authors. Join us on our mission and start the next chapter of your career with us!